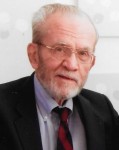 September 1, 1929
-
September 29, 2018
Born in South Hampton, New York
Resided in

Arizona
Obituary
Russell G. Conklin was born in South Hampton, New York to Russell and Louise Conklin. Russell grew up in the rural town of East Hampton on the eastern end of Long Island in close proximity to his grandparents and extended family. As an only child, he was close to his parents and enjoyed fishing with and learning the craft of carpentry from his father, and he loved the beach. Growing up, Russell cherished his grandparents and shared fond memories of them throughout his life.
Russell served two years (1951-1952) in the U.S. Army during the Korean War. He spent 13 months during his enlistment in Germany - an opportunity and experience he always valued. Russell was grateful for the GI Bill which enabled him to study engineering at Purdue University in Indiana. After graduating as a civil engineer and beginning his professional career, Russell earned an MBA from Indiana University. He was a life-long learner and held education in the highest regard.
On November 16, 1957, Russell married Marjorie Harisak from Yonkers, New York. Russell and Marjorie were bonded for 55 years in matrimony until they were separated by Marjorie's death in 2013. Each was dedicated to the other's well-being and that of their four children. Russ and Marge were companions in life, in intellect and in faith.
Russell enjoyed a long and fulfilling career in the field of civil engineering. He retired from Caterpillar Inc. in 1985 and later from the U.S. Army Corps of Engineers in 1992. His contributions are still evident today in the structures he helped design and build.
Russell showed his love of family in many ways but especially in his care and improvements of our family homes throughout the years. He enjoyed his projects - he was never without an active project. He improved every home with landscape, additions and updates, conversions, decks, retaining walls, new driveways, and a new two-car garage. Russell cared deeply about the projects he undertook and executed them with the same care, study and precision that he applied to all aspects of his life.
In his younger years, Russell was an avid gardener and beekeeper providing honey and fresh, home-grown produce for family and friends. He also loved and cared for his two Irish Setters who were a part of the family growing up in Illinois. Later, Russell and Marjorie enjoyed 20 years together of retirement in Sun City West where they were active members of the Prince of Peace Catholic Parish. They volunteered their time for the Society of St. Vincent de Paul and the Westside Food Bank for many years. Russell's deep faith was the foundation of his life. He began every day with a morning offering to the Sacred Heart of Jesus.
 
Russell's interests were many including reading newspapers and books on many subjects: economics, business and finance, current events, European and ancient history, languages, health care and science, genealogy, travel, and fitness and exercise. He enjoyed going to the gym and the International Social & Dance Club with Marge, as well as hiking and biking. Later in life he became an enthused patron of the Sun City West Karaoke Club where he could hear old friends sing.
Russell was very proud to be an eleventh generation, direct descendent of several of the original English colonial families that founded East Hampton. His genealogy research helped him to locate and identify some of his mother's relatives in Germany. He subsequently traveled to Germany to visit his ancestors' homeland and to visit with his newly discovered relatives with whom he maintained lifelong friendships.
Because of his great faith in God, Russell was victorious throughout the joys and sufferings of his life. He retained his loving spirit and good humor even through the challenges of Parkinson's Disease with which he was afflicted late in life.
Russell is in our hearts today and always. We will forever carry forward all that we learned from him; to be our best always and apply ourselves with diligence and thoughtful consideration to all that we do.
Russell was preceded in death by his loving wife, Marjorie and his son-in-law Raymond Kauffman. He is survived by his four devoted children: Elizabeth Conklin of Little Rock, Arkansas, Catherine Kauffman of Naperville, Illinois, Peter Conklin (Kathy Clevenger) of Portland, Oregon, Barbara Conklin Williamson (Keith) of Litchfield Park, Arizona; three grandchildren: Kayla Kauffman (Germany), Derek Kauffman (Minnesota) and Grant Conklin (Oregon); brother and sister-in-law Donald and Joan Baggott of New York, three nieces and a nephew and their families; as well as other relatives in New York and Germany; and many friends and colleagues .
Donations in Russell's memory may be made to the Phoenix Society of St. Vincent de Paul.
A Scripture service for Mr. Conklin will begin at 11:00 AM Saturday, October 6, 2018 at Holy Cross Catholic Funeral Home, 9925 W. Thomas Rd., Avondale, AZ 85392. The Rite of Committal and Interment with Military Honors will follow at Holy Cross Cemetery, 9925 W. Thomas Rd. Avondale, AZ 85392 where he will be laid to rest.
Services
Service
Holy Cross Catholic Funeral Home
9925 W. Thomas Road
Avondale
,
AZ
85392
Burial
Holy Cross Catholic Cemetery
9925 W. Thomas Road
Avondale
,
AZ
85392